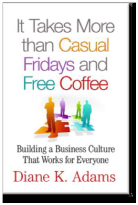 It Takes More than
Casual




Fridays

and

Free

Coffee

:
Building a Business Culture That Works for Everyone
By Diane K. Adams
---
Culture is the set of positive values that drive the thinking and actions of an organization and its people day in and day out. Culture is the game changer. Get the culture right, and a company and its people thrive. Miss the mark, and you lose.
It Takes More than Casual Fridays and Free Coffee offers a guide to building and perpetuating a successful values-based culture in any business, no matter its size or the competition. Diane Adams shares her experiences and insights with extraordinary leaders — from Fortune 500 companies to small businesses — to show how to build a culture despite challenges such as stiff competition and up-and-down economies.
Many business leaders think that changing a company's culture is too overwhelming or too expensive to take on — but it doesn't have to be either. Adams' experience has proved that culture comes from the top. If the leadership gets it, the culture trickles down into all aspects of the business. Based on her broad experience, Adams has created a 7 Points to Culture system for success which shows companies how to build the framework for their own successful culture. Her insights help organizations understand how and why something might not have succeeded in the past, with tips on how to do it better.
It Takes More than Casual Fridays and Free Coffee proves that when companies get the culture right, they succeed. They'll hire the right people. They'll invest in them. They and their employees will share common values. They'll communicate with good intentions. And together they'll move toward a common vision and mission – the company's long-term success.
'When it comes to getting culture right to build high-growth organizations for competitive advantage, Diane has the answers.'
– Lars Björk, CEO of Qlik, one of the world's fastest growing technology companies
Free Online Workbook
Culture is the game changer. Get the culture right, and your company and people thrive.
Diane's new book is your front-row seat to building a positive values-based culture in your organization, and in turn gaining an edge in today's competitive economy.
With Diane's help, you'll be inspired to be at your best personally and professionally.
Be sure to check out the FREE online workbook , too. In its pages you'll get the basics, along with exercises and tips to help you build the right culture for your company.
So let's get started now!